Schedule a FREE Onsite Analysis of The Air Quality Needs of Your Business!
We proudly offer Quick-Fit™ ducting. The world's fastest industrial ducting!
Our Quick-Fit™ ducting systems clamp together. No rivets, screws or welding. This cuts your installation and down time by more than 45%, and it's adaptable to your existing ductwork. For dust collection and industrial ventilation.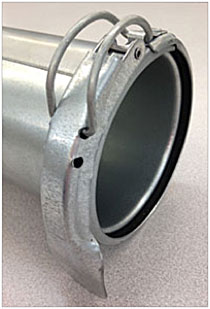 You can just clamp it together
Quick-Fit™ ductwork components have a rolled edge on the ends which provides easy connection to other components with use of a barrel-type clamp. A specially designed gasket inside the clamp seals the joint tightly. Installers simply and quickly clamp each piece together without any special tools. The telescoping Quick-Fit adjustable nipple eliminates precise measurements.
It's easy and fast to install
Because our ducting systems clamp together, no rivets, screws or welding are needed. This cuts installation and downtime by more than 45% compared to flanged ductwork installation.
It fits most applications
Quick-Fit ducting components are adaptable to your existing ductwork and Quick-Fit has been used in a variety of applications.
It's re-usable
Quick-Fit ducting is easy to uninstall and relocate as your needs change.
It's easy to clean
Quick-Fit ducting is easy to remove, clean, and re-install — without tools.
It Has Leak-Tight, Solid Welded Seams on the Duct Pipes
Smooth, fully welded seams prevent leaks, snags, and possible "bug harbors".
It's available in construction materials to fit your application
Many of our ducting products are available in Galvanized or Stainless Steel. We can also provide components in other materials such as black metal, aluminum, and 316SS. And we provide extra durable heavier walled duct.
Install it yourself
Because our Quick-Fit™ ductwork requires no special tools or training, anyone can install it quickly and easily.
We can design it for you
We can provide a fully engineered ducting system complete with engineering drawings and 3-D models.